Latest available jobs in Ireland

The Company is a global ticket exchange brand, providing support to customers buying and selling tickets for music, sports, and entertainment events. They value a data-driven culture, emphasize teamwork, and offer customer service through various channels. Additional responsibilities include account management, process improvement, and on-site support at major events.

This job entails providing customer service for a multinational ticket exchange and resale brand. Responsibilities include supporting customers in buying and selling tickets, providing email and phone support, collaborating with other departments, identifying process improvements, and assisting customers at major events globally.
Everything you need to know about working and living in Ireland
Ireland, the emerald isle, is known for its beautiful and green landscapes, beautiful cliffs and forests that make you feel instantly in love with Ireland. The people are very kind to expats which is an important factor to think about when moving abroad. Work in Ireland is part of the pros of living there, since they are very considerate and including regarding employees. It's also a great place to work in European languages in support or sales areas, because there's a high demand in Ireland.
Work in Ireland
There are many benefits of living and working in Ireland that will make you want to work there ASAP. First of all, the work-life balance in Ireland is one of the greatest. Usually the working hours are about 9:00pm to 5:30pm, including 30 minutes break..
Good work environment
You have 25 days leave during the year because Irish people value efficiency during work, and they believe that if your life is balanced you will be more productive at work. They also prefer that you take little breaks during work, like going for a little walk and being active. So job satisfaction is a big thing in Ireland, and they make actual efforts to ensure a good work environment.
Work in Dublin
The biggest city in Ireland, Dublin, has a robust job market and there are plenty of job opportunities here. Because of this, Ireland was the only country to record economic growth during the pandemic in 2020. It has many zones and the metro is covering almost the entire city. Zone 1 and 2 are the centre. It's also possible to find cheap accommodation between zone 4,6,7 or 8, where you will have the benefits of many markets, bars, restaurants and activities.
Work in Cork
Cork is the second biggest city in the country and it has a strong economic field with one of the biggest natural harbours globally. Historically it has been one of the major port towns with many industry-related jobs, but right now it's also raising many other fields, like the tech and pharmaceutical field, with Novartis, Johnson & Johnson and Pfizer. Besides this they have jobs in the hospitality and tourism sector.
Tax in Ireland
Once you're in Ireland it's important to obtain your  Personal Public Service Number (PPS No) in the Department of Social Protection. This will be your forever tax identification number once it is related to an income. Income tax in Ireland starts with 20% and the minimum wage to pay taxes was raised to €1,500 monthly in 2022.
Popular cities in Ireland
Speak to one of our recruiters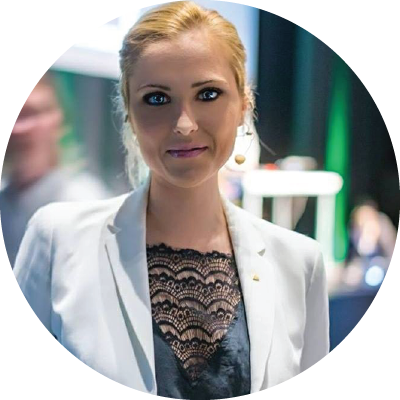 Linda
Life in Ireland
Ireland is home to over 40 shades of green, earning it the nickname "The Emerald Isle". Living in Ireland means experiencing a country that values community, creativity, and a slower pace of life. Take part in local traditions, from celebrating St. Patrick's Day with parades and festivals to witnessing the excitement of Gaelic games like hurling and football. The Irish embrace their rich cultural heritage with pride. Enjoy ancient castles, mystical ruins, and vibrant festivals that celebrate music, literature, and folklore. Explore the vibrant streets of Dublin, where literary greats like James Joyce and Oscar Wilde once roamed.
Basic facts about Ireland
Ireland has not been part of the United Kingdom since their independence on January 21st, 1919. Its population is around 6.6 million people, which makes it the second most populated island in Europe after Great Britain. Their official languages are English and Irish (Gaelic). The capital is Dublin which is the place of birth of many known writers like Oscar Wilde and also is the home of Guinness Beer.
Fun facts about Ireland
Its national symbol is the harp and the shamrock, so Ireland is the first country with a musical instrument as their symbol.
It's the home of Halloween, since this festivity has its origin in the Celtic harvest festival of Samhain, a common event at the end of summer in Ireland.
The most famous beer is from Ireland: the Guinness beer originated in the Dublin brewery of Arthur Guinness. So if you are a beer lover, you must visit Ireland.
Irish Folklore
The Irish culture is very rich and they keep their heritage of traditions throughout their music, stories, myths, fables, poetry, rhymes, and sayings to make it easier for the little ones to learn them. They enjoy their traditions with music of all types. The traditional Irish music has drinking songs, love songs, dancing songs, fun songs, and ballads, either with or without instruments. They still use the instruments from the early ages today like fiddles, bagpipes, pennywhistles, horns, harps, and bodhrán.
It's part of the Irish people to celebrate their folklore during parties, weddings, birthdates and holidays, by singing or telling about fairies, conjures images of banshees, leprechauns and their tales in their language. So it's something you'll see in every important event in Ireland. Their passion for the culture is easily contagious so prepare yourself for the magic of living in Ireland.
Irish food and drinking culture
Their culinary traditions are focused on big gatherings where there is a big table full of roasted chicken and ham. Beside this they have their traditional soda bread, where each family has their own recipe passed from generation to generation. If you're staying during September, don't miss out their shellfish, a west coast plum native. For Christmas they love turkey followed by christmas cake or plum pudding. Regarding their drinking behaviour, they love to ask for beer in rounds, and it is almost a ritual during nights out.
Best tips to finding accommodations in Ireland
After BREXIT Ireland is the only country in Europe where English is the official language, so many people have come from all over the world to have a life in Ireland. So here we will give you some useful tips to nail the accommodation part of your journey:
Rent in airbnb the first weeks: Don't go directly to renting an apartment just arriving in Ireland. The best is to rent a room while you get used to the renting market in your city and how things are there, the best points for public transportation to your workplace etc.
Don't fall for scams: Due to the situation with renting in Ireland there are many scammers in the market. There are a lot of old houses or apartments that have not been renovated in the past 20 years and landlords put inflated prices on them, so you must be alert to not give any money without making sure it is worth it.
Always schedule a visit first: We recommend to set an alarm every time something with your preferences is available and be one of the first to schedule a visit to see the room or apartment.
Popular websites: Facebook is always an alternative, there are plenty of groups about renting in the different cities in Ireland, also you can verify with the comments of locals if the price is good enough, overpriced or if it's too low to be real. Also, there is daft.ie, this platform in particular is the owner of another 5 renting platforms in Ireland, so any renting offer you find in another site, is very probable that it's already here. Myhome.ie allows you to search by area or transit route and list all different types of accommodation so it would be useful too.
Use the first weeks to network: during your stay in airbnb, try to network with citizens or in work, this will help you to get information and grow strong bonds with the people around you.
Have all your documents prepared: Once you have the viewing of a place, be prepared to have all the documents they may ask, here's a quick list


Guarantor information
Employer reference
Landlord reference
Home address
Photo ID
PPS number
First month's rent and one month's deposit
Cost of living in Ireland
The cost of living in Ireland depends on the city you're going to live in. The minimum average wage in Ireland is around €1700. Dublin, as the biggest city, will be more expensive than others around, so here are some reference prices considering you will be living in Dublin, in order to set your expectations.
| | |
| --- | --- |
| Monthly Living Expenses (Dublin) | Cost Per Month |
| Accommodation (1 room | €850 |
| Electric, gas, water and garbage bills | €160 |
| Internet | €40 |
| Transport (monthly ticket) | €120 |
| Telephone | €20 |
| Cable TV | €35 |
| Leisure | €10 |
| Food | €150 |
| Total | €1385 |
Why Ireland?
Ireland is the perfect place to find cheap travels all around Europe. If you want to travel and work then this is the perfect place for you, because of the work culture in Ireland. If you have a bank holiday on Tuesday or Thursday, then they give you also the Monday and Friday respectively so you have 4 days for yourself to travel, and we're not counting vacations which areup to 25 days. Ireland also have 5 international airports available to travel over Europe super cheap.
Ireland is a good starter if you want to work abroad and have the opportunity to travel even more during their free time. We can help you find the opportunity to do it, We assist you during the entire process and make sure you don't feel alone during your adventure. You can always contact us and we will be more than happy to help you.
Still not convinced about Ireland?
Picture yourself wandering through charming towns and villages, stumble upon waterfalls and forests, or walk along the amazing coastal cliffs. Outdoor enthusiasts will find adventure in hiking, golfing, fishing, and even surfing on the rugged Atlantic coastline.
While it may be a bit of an exaggeration to say there is a pub on every corner in Ireland, pubs do hold a significant place in Irish culture and are quite prevalent throughout the country. You will find pubs in towns, cities, and even in more rural areas. Pubs serve as social hubs where locals and visitors gather to enjoy drinks, live music, and lively conversations. They can be a great place to experience traditional Irish music sessions and soak in the local culture.
Irish hospitality is legendary. Engage with the friendly locals, known for their wit and storytelling prowess, and embrace the "craic" (good times) that flows freely in traditional pubs. Enjoy live music sessions, lively dance performances, and the warm atmosphere that makes every pub visit an unforgettable experience.
Irish cuisine is a delightful fusion of hearty dishes and fresh seafood. Try traditional favourites like Irish stew, fish and chips, and the iconic soda bread. And don't forget to taste the creamy goodness of Ireland's famous dairy products, including butter and cheese.
Find work in other countries nearby