Living in Greece means immersing yourself in a country where ancient history, breathtaking landscapes, and warm hospitality create an extraordinary lifestyle. Imagine diving into the azure waters of the Aegean Sea, discovering hidden coves in the Cyclades, or sailing along the breathtaking coastline of the Ionian Islands. With over 6,000 islands to explore, you will for sure find your own slice of paradise.
Greece also has a wealth of vibrant festivals and traditions. Easter is one of the joyous celebrations, where the streets come alive with music, fireworks, and the smashing of pots. Experience the atmosphere of Greek dancing during traditional festivities where locals and visitors of all ages come together to dance all night.
Quick facts about working in Greece
Average working hours per week:

40 hours, 8 hours daily

Typical working day:

Monday to Friday from 9:00 am to 6:00 pm

Number of Vacation days:

20 days / 4 weeks

Commute:

Mostly by metro/train/tram or bus
You will have colleagues from everywhere, but you will speak in your own native language, supporting customers from your country.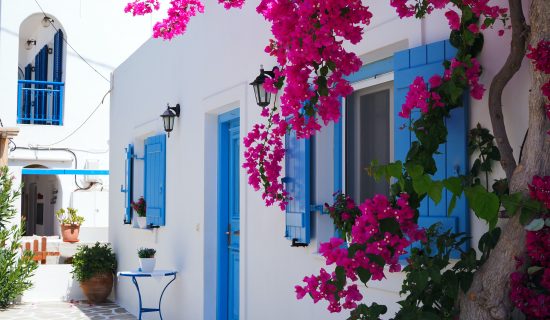 Still not convinced about Greece?
Picture yourself strolling through the narrow streets of Athens, where ancient ruins stand proud alongside vibrant street art. Athens is one of the oldest continuously inhabited cities in the world with over 3400 years of history. So it's almost impossible not to stumble across iconic landmarks like the Acropolis, the ancient Olympic Stadium and many other well-kept monuments all over Greece.
Or you can head to the romantic island Santorini, known for its stunning sunsets, whitewashed buildings, and blue-domed architecture. Delve into history by visiting the archaeological site of Delphi which is an ancient sanctuary with impressive ruins. Crete is absolutely also mention-worthy, offering a mix of charming villages, amazing beaches, and the historic Palace of Knossos. But to be fair you really can't go wrong no matter which islands you choose to visit, they're all stunning and utmost captivating and picturesque.
But Greece is not all about beaches and historical sites. The natural beauty and warm climate provide a backdrop for outdoor activities like hiking, sailing, and exploring majestic landscapes such as the stunning Meteora. It is also an amazing place for skiing providing beautiful views in the amazing mountains in the mainland. And all the idyllic and authentic villages up north should definitely also be on your bucket list. You can find many bus excursions to such places.
Their cuisine is definitely worth highlighting and it is truly a celebration of flavours and fresh, simple  ingredients. Indulge in mouthwatering dishes like moussaka, souvlaki, and spanakopita. Sit back and relax at a traditional taverna. Sip on a glass of ouzo or rich and tasty local wine, and dig in to all the delicious fresh fish, meat, cheese and veggies you can imagine, as you embrace the slow-paced Mediterranean lifestyle.
Greece offers a variety of wonderful places to live, depending on your personal preferences.  Athens provides a blend of urban facilities, historical sites, and a thriving cultural scene. Thessaloniki, Greece's second-largest city, offers an atmosphere of a rich history and a lively food and nightlife scene. And for a more leaned back coastal lifestyle you can consider living in towns like Chania in Crete or Nafplio in the Peloponnese. These cities are loaded with beautiful beaches, charming architecture, and a slower pace of life. Each location has its own unique charm, allowing residents to enjoy the beauty and culture of Greece.
Speak to one of our recruiters