About Job Us:
Job Squad was founded by a couple of young Danish entrepreneurs with a passion for recruitment and HR. One has years of experience in corporate recruitment and ssales, the other is startup obsessed with more than 4 of these young businesses to her name. Both of these young mavericks came together with their shared experiences to create Job Squad, a personal recruitment agency with a corporate twist.
Job Squad's vision was to create career opportunities for Europeans across borders, that will strengthen and develop their personality and career diversity. By breaking down borders and bringing on a wide variety of clients and positions we try to make sure there's a position for everyone.
At Job Squad we like to think of ourselves as professionals without the formality, after all, we are here to help and make sure both job hunting and placement is as pleasant and seamless as possible.
An internship with us means that you will become a part of the team, like any other team member, you will have tasks and responsibility and we expect you to be proactive. We will form and create the internship in line with your talent and learning objectives and together we set the goals and how we will reach them in the time frame that you are with us.
Right now we are looking for a graphic designer for spring 2023. We have been working for over 4 years and we need some fresh eyes on our brand and help to what the next steps would be. You will work with brand builder and owner of the company as well as recruiters with different nationalities to ensure that our graphics and look supports our vision and stay international and a fit to all European markets.
Your profile:

A good eye for aesthetics
Open and not afraid to express opinion
Bring new ideas to the table
Qualifies in Indesign, Photoshop and knowledge of Microsoft package
Development of graphics to Podcast and social media

Potential tasks:

- Update of brand book and brand look
- Fun with with Logo
- Support to Design of new website
-  Development of online ads
- Collaboration with different recruiters to develop graphs and graphic for
- Update of job PDF
- Development of various Templates

We offer:

- Monday to Friday, 9-5 with possibility of flexible hours
- Realistic and real time work
- Remote work and Training
- Projects shaped after your learning objectives
- In english in an international team
- Informal and fun work spirit, with high ambitions
- Support to job after internship end
We love when new people join our Squad and bring fresh eyes on our daily work, this ensures that we stay on top of what is relevant for the market and we love when people are not afraid of questioning our work, our style and bring critical thinking into the job. We always strive to ensure that each intern leaves a useful legacy in the company.
If you are the one we are looking for, feel free to reach out, we look forward to hearing from you.
Vi glæder os til at høre fra dig!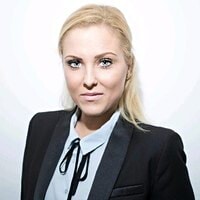 Linda J Sonnichsen
CMO, International Recruiter
ljs@jobsqd.com
+45 54 55 47 79 //+33 7 87 04 44 43
Linda holds a Degree in Brand building and technology design, a BA in Entrepreneurship and innovation with honor in social entrepreneurship and a Master in Creativity and Innovation.
She has lived in Denmark, Malta and for the last two years she has lived in South of France. She has been self-employed on and off since she was 16, in between she has worked within tourism, lobbyism, consulting and sales.
Linda is in charge of the internal HR, marketing and branding of Job Squad, besides that she loves to help people to get new jobs and support them in the life-changing experience it is working abroad.
Or, know someone who would be a perfect fit?
Let them know!
Linda J Sonnichsen
CMO, International Recruiter