We are looking for a positive, creative and fearless person who loves pushing the limits to join our growing startup, working remote from all over the world!

Working remote has a lot of freedom, we are looking for people willing to work full-time helping is helping Europeans getting cool jobs all over Europe. You will work from home, a cafe or wherever it fits you. 

Our main office is in Copenhagen, and this is where the company is registered as well. We have 15 recruiters working in various languages. We host training during the week, and update meetings, work on platforms such as Team Tailor, Slack and Google drive to ensure we provide our recruiters with all the support they need to succeed in their quest to make great hires all through the months. 
Job Squad
We founded Job Squad in 2018 from the believe that recruitment needs to be done in a careful and honest way. Candidates are not just a number, but people, and our jobs are not to push them into jobs they wont be happy in just in order to earn a penny. Our jobs is to inspire and create opportunities for people, ensure they get international experience and a job they like. We work mainly with people in the age of 18-35. Gap year jobs, first jobs abroad and a few manager positions. As we are working with people we are looking for a person with a high level of integrity and trust worthy.  
We are a young and dynamic team and looking for a professional person who is ready to be a part of an international startup company. Your professional profile is important but we will also be looking for a profile who fits in the team and are ready for online fun chats and bad jokes! Bring your ambitions and ideas, and own work methods. Happy people work better!
We provide hands-on training over skype when you start, but expects you to be proactive and ask questions all through our collaboration. Motivation should mainly come from within, we provide all online work tools, finished add for you to use and a brand that are ever-growing and reflects professionalism and fun.  Support is always available online Monday-Friday. 
Working as part of a dynamic and international team you will be responsible for the entire end-to-end recruitment process and you will among several other tasks do the following: 
Have the responsibility for the operational and strategic recruitment process for the local markets. Planning, job briefing, create job ads, update our database with your candidates and proactive search of candidates, screening, interviews, reference checks, feedback sessions and handholding. 
Build a strong relationship with sales and delivery managers to understand the needs every week.
Handholding the candidates also after their job start
Create and find new sources in order to contact potential candidates 
Support the candidates on the entire journey, from start to end
Process candidates request and provide relevant information 
What are we looking for:
Experience in sales or recruitment is not a must a plus 
Sales experience is a plus
Experience from an international environment is a plus 
Experience from living abroad is not a must but a big plus
Has knowledge and experience with social media and knows how to use it effectively as a recruitment tool  
Whiling to use your social media profiles for work
Able to communicate in English, both written and verbal (B2 Level)  
Someone with the knowledge into the mentality and culture of the above mentioned countries/languages
We offer: 
Full-time position. Hours you can choose yourself as fit. 
International work environment 
Full freedom and the opportunity to earn good money (and help people)
A growing brand in the industry
Good bonus system
Support and training
If you are interested in becoming our new online colleague? Then we would love to hear from you! 
Contact out founder today: Linda Sonnichsen, she will guide you through the position and be the main man behind your training. 
**This Job post is ongoing, as we are always looking for new talent, however we might not be able to hire every month, and so if you are not answered right away, please be patient with us.
---
Relocation - No 
Trial Period - 14 days
Start Date - Ongoing
Meet our French Recruiter Marine

Becoming a Digital Nomad after COVID-19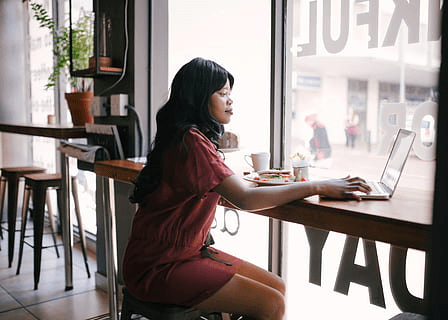 Lasse Bollerup
CSO, International Recruiter
lb@jobsqd.com
+45 25 46 62 36
Lasse holds a background in Recruiting for some of the fastest growing Startups in Copenhagen.
He has worked since he was 16 and been involved in over 6 startups. He has taken part in various courses for talent development.
Lasse has travelled around in South America for 6 months and claims he speaks Spanish.
Or, know someone who would be a perfect fit?
Let them know!
Lasse Bollerup
CSO, International Recruiter